Wondering if Our #Kitsap Market is a Housing Bubble?
Posted by Dupuis Team on Thursday, July 8, 2021 at 3:30 PM
By Dupuis Team / July 8, 2021
Comment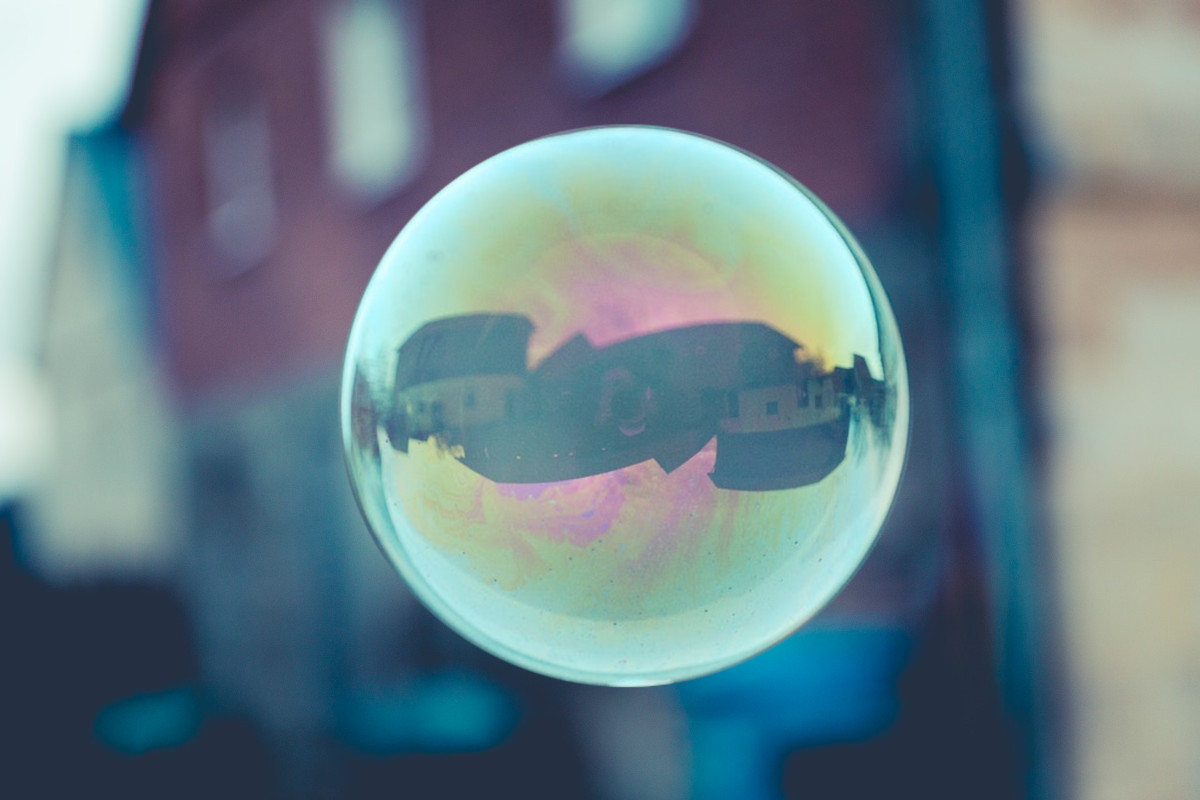 The simplest definition of a housing bubble is a market in which housing values rise so sharply that prices are not sustainable. A quick glance at our Dupuis Team- compiled weekly housing stats easily gives the impression that the rate is rising quickly. See that "trendline" on the blue 2021 average weekly median sale prices, compared to the one for (green) 2020? That is the rate at which prices have been changing. We certainly felt them climb in 2020, but this 2021 market is, to use a technical term, "completely freaking bonkers."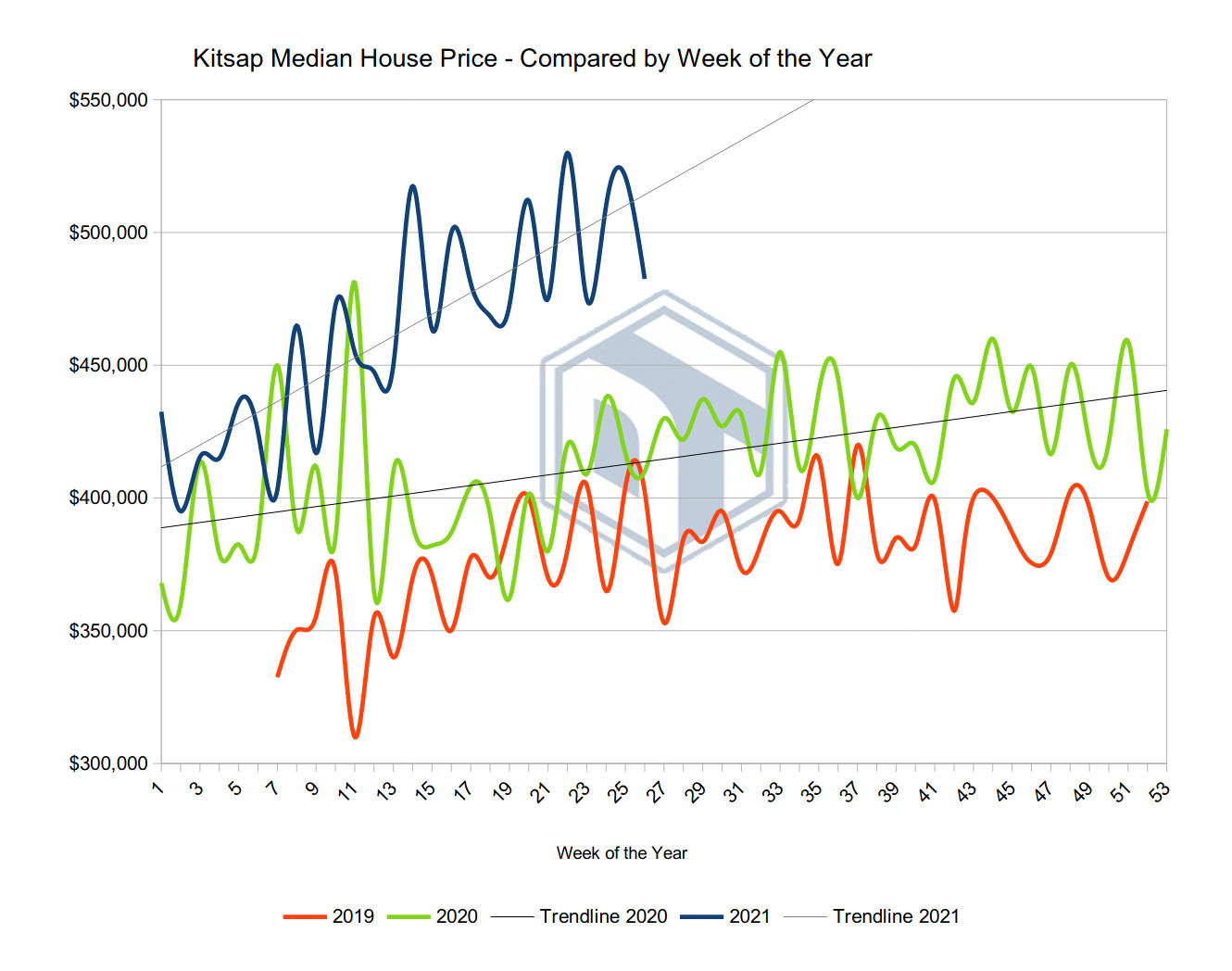 Clearly, things are rising at an increased rate compared to last year - significantly faster, in fact (that's the difference between the slopes of the lines in the case of these graphs- remember your algebra?) The big question is whether or not it's SUSTAINABLE.
When wondering if a seller's market (which is what we have currently ) is about to change into a buyer's market, you have to consider a wide number of factors, and many of them are unique in Kitsap. For one thing, we have a huge unmet housing need here in Kitsap - so many people desperately want to get into a purchased (or even rented) home and simply cannot compete with the prices right now. You'd think that eventually the needs would be met - but fueling this is a lot of "Equity Refugees" from pricier areas, especially from the East sound (Greater Seattle and Tacoma.) As so much workforce moved to Work From Home over the last year, many people realized they didn't need to live in such an expensive area and hightailed it over to Kitsap. We are still experiencing that pressure on the Buyer's side of the equation.
Additionally, we experience a lot of insulation from economic ups and downs in Kitsap thanks to our military presence. With an annual influx and outgo of military personnel on tour rotation, we have a lot of turnover other regions don't experience. Furthermore, we have a reliable pool of well qualified buyers from year to year, in our newly-arrived military neighbors.
Indeed, the bottleneck on our local market continues to be inventory: available homes for sale. It may seem like a no-brainer to list your home for sale right now and enjoy the profits - and we largely agree - but individual circumstances vary. For example, someone who is experiencing job instability right now (but is keeping up with mortgage payments) would be better off holding on to the home they've got, because it will be hard to secure a new mortgage with a job in flux. This is a very common situation right now, due to the global pandemic. Some people would like a new home, but don't list out of fear that it will be too hard to win a bid on that new place - so they stick with the roof they have. (Please speak to your favorite broker if you fit that criteria - there are creative ways to deal with this quandry!)
So "sustainable" remains a very regional-specific factor in determining if a place is experiencing a bubble. Our market values have spiked sharply in Kitsap, but it does not seem like we are going to find ourselves short of buyers for these listings any time soon, which lends credence to the idea that it IS sustainable. Our prices also are historically MUCH better than what people find across the sound. It's a very fair bet that we will see economic crunch in the housing market (that is, a bubble bursting) in advance of experiencing it in Kitsap. Short of losing our military bases (which have history dating back to pre-World War I, with the shipyards) we will bear up.
One stat to watch weekly is the "Sales Price to List Price" - we report that percentage to you every week. This means how much a property sells for, compared to what was asked upon listing - and lately, the vast majority sell for significantly more than listing. (In fact, that's what defines a seller's market vs. buyer's market - whether the SP/LP percentage is above 100%, or below.) It's continued to climb locally over the last 18 months or so. If you see it consistently start to fall, that will be a leading indicator that the local market has experienced a bubble - and it's about to burst.
Another statistic to keep an eye on loosely, will be the average number of days a property is on the market. The speed with which properties get snapped up speaks to how robust a market is. It's likely we will see those numbers start to creep up in advance of valuations dropping.

Lastly, keep an eye on mortgage rates. They have risen slightly since last year's stimulus-oriented lows, but they will rise significantly if we experience serious default rates resulting in bank ownership, and the need to recoup losses. They may also rise if the Fed is concerned about supply and demand in the market. Rising rates will in turn slow down the number of people looking for homes, and the values they can afford in light of higher rates. Sellers will in turn have to decide to drop prices to attract buyers - and the overall market values will fall.

Hang in there, Kitsap - it's been a wild ride lately, but we have indeed continued to get our buyer clients into homes (and very good prices for our seller clients!) - and market indicators really aren't falling anytime soon. Give us a call at Dupuis Team Real Estate if we can help you with your next property transaction.