Kitchen Design Trends for 2020
Posted by Dupuis Team on Monday, March 9, 2020 at 3:45 PM
By Dupuis Team / March 9, 2020
Comment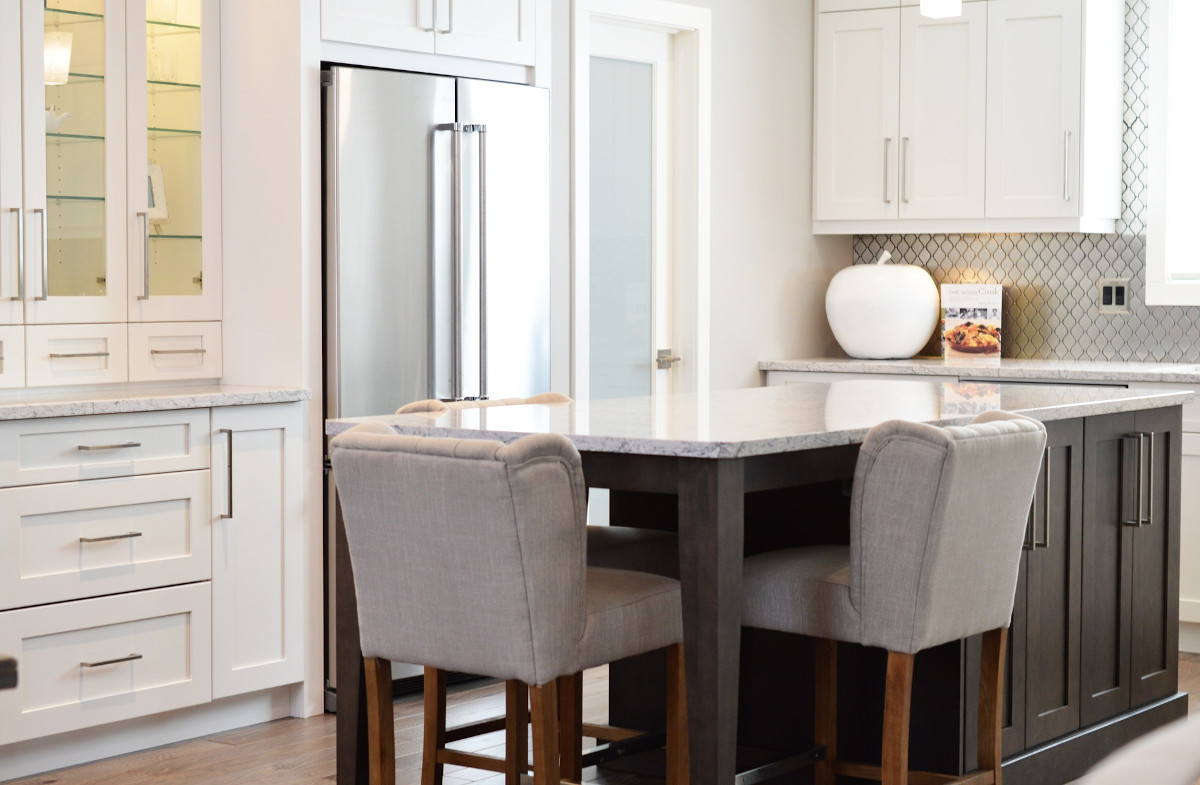 Whether you're looking to remodel a new purchase in need of updating, dreaming about a new build, or wanting to refresh your existing kitchen for your own pleasure and the increased resale value - it's worth knowing what's out there for modern kitchen design, and what's considered fresh and new.

At Dupuis Team, we really try to position ourselves as a realty service to individuals - and as such, you should take "trend" advice lightly. If something appeals to you (and you think you'll live there awhile) - you should by all means indulge your own taste. That is surely one of the deep pleasures of owning instead of renting, and we advocate for that aggresively! Nonetheless, it can be hard to know where to start with a new or re-design, and kitchens in particulars have a lot of elements. Seeing what's "out there" can at least help guide your own ideas, if you're coming up short - and if you're lucky, you'll spot the kitchen of your dreams and have a little less homework to do on the subject!
In summary, for 2020 we are seeing the following big trends:
1) Number one topic is tech in the kitchen - smart homes are getting bigger and bigger, and we are starting to see it really hit kitchen elements too. People want their function, aesthetic, and tech to integrate and kitchen options reflect that. There's a fridge with built in tablet screen, many brands of Wifi-connected appliances that you can control and monitor remotely; touch and touchless faucets to help you wash up without befouling the handles. You can install smart blinds in the windows, and wire up a great smart lighting scheme to follow different routines that reflect your daily habits. When the room is finished off, you can have a countless smaller smart kitchen gadgets at your fingertips. Bonus read: Check out this article from foodie-tech site The Spoon, reviewing kitchen tech at this year's Consumer Electronics Show.
2) After years and years of the beautiful-but-hard-to-keep-clean (and a bit overly-sterile-appearing) White Kitchen, we are starting to see darker colors really trend in kitchens. This article from House Beautiful talks about both black palettes in the kitchen, as well as bold/dark shades once considered very brave. This article from HGTV highlights several similar trends, towards bold and darker colors in the kitchen.
3) Open shelving continues as a strong trend, and a couple can really break up the look of banks of wall cabinets. They can seem counterintuitive in a kitchen, because it seems like the contents will get covered in kitchen dust and fine oils. The point of them is to store things you use everyday - those things get washed very frequently, and so they are not soiled by the abient grime of kitchen life. You can paint them to match the trim and cabinets, or you can add a natural wood accent if the room needs a little organic life.
4) Conversely: put-away storage is king! We think this is especially important for those of us looking to gently update many of the early-to-mid 20th century homes that grace the Kitsap area . . . older kitchens were notoriously low on storage space. The notion of creating an old fashioned "larder" in place of a full walk in pantry is a great trend that fits our area. Bonus read: Sherwin-Williams talks about how to do a matte black accent wall, which may be a good way to "try on" the darker look, and see if it's for you!
5) Clever cabinet built-ins continue to proliferate, and you can customize to your heart's content now. You can get full slide out pantries if space is tight; drawers can conceal addtional inner drawers and sliding spacers;
6) In a trend reflecting the incorporating of the kitchen into living space, people are connecting their kitchens to the outdoors. Where wall space exists to do so, people are attaching the kitchens to deck and patio spaces - which often have cooking spaces of their own.
7) The herringbone design we see in tiling the last several years (a look the definitely pairs nicely with the vintage homes in our area, as well as modern builds) has come to flooring, and we see people having fun with that look. Flooring can be a place to try something a little wilder, because it's generally easier to change out than a whole kitchen. Hardwood continues to dominate the floors of kitchen world, but wood-look tiles are very hot right now too - and for good reason. They are durable and clean up beautifully.
8) Mixed metals are showing up in many 2020 Kitchen Trend list, and it may feel like a welcome relaxing of the old "rules" for those of us that love more than one metalic look, or just have trouble picking our favorites.
9) Fancy backsplashes - typically, tile - are a great way to have a bit of a luxury touch in a small area of your kitchen, without having to go overboard with the look (or the price of all over tile!)
10) Quartz continues to rule as the countertop material of choice, but it is pricey. It's a good choice if you know you'll be living with the kitchen a long while yourself, and and will enjoy this beautiful, showstopping indulgence!
11) Kitchen islands are going nowhere, and with them often come a seating area - this year, we're seeing bold, statement stools as a fun complement to this kitchen design staple.
Remember that it matters less what you see in a glitzy magazine, and more what really makes your own heart sing! Most of us here at Dupuis Team are inveterate remodelers . . . give us a call, we'd love to talk over your own remodeling ideas vs. trends we're seeing out there in the active real estate listings!