Is Staging Your #Kitsap Home Before Listing REALLY Necessary?
Posted by Dupuis Team on Thursday, November 19, 2020 at 11:45 AM
By Dupuis Team / November 19, 2020
Comment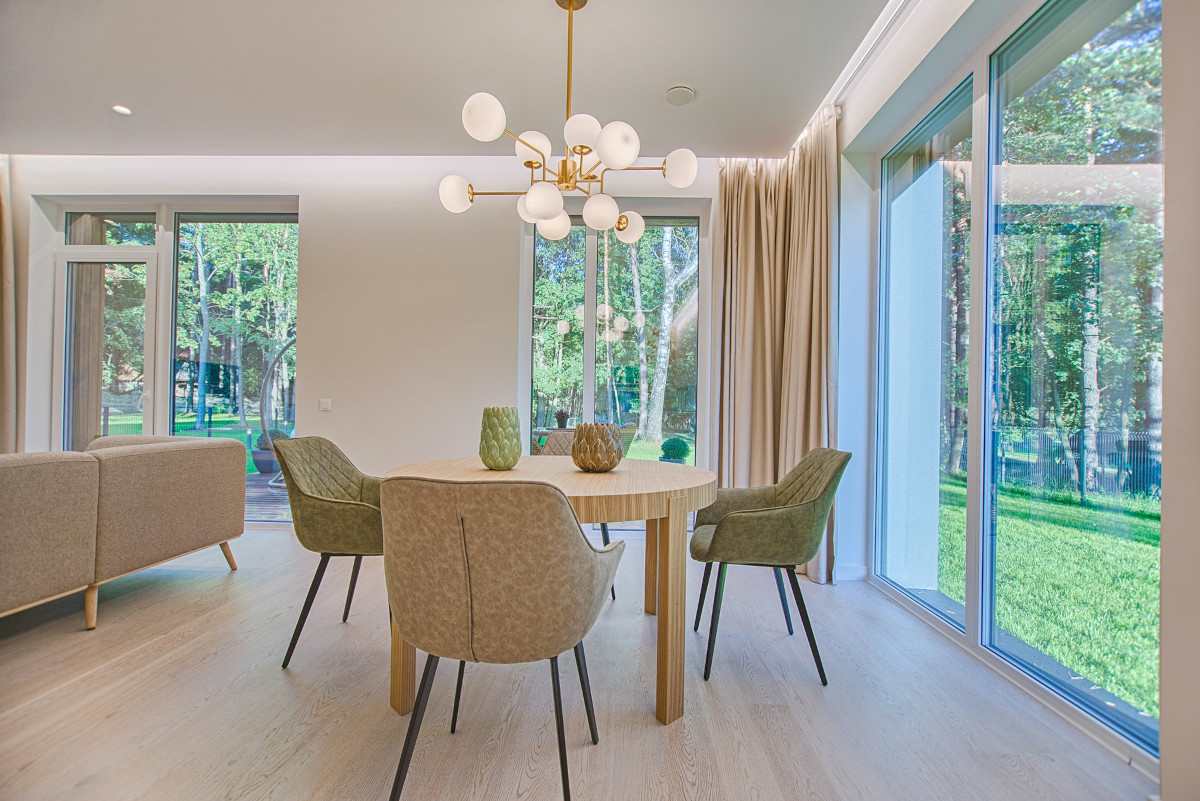 You may have noticed a trend in real estate listings over the past several years: listings have become much more image-heavy and often include video tours and the ability to see a particular room or view in 360°. Before the internet was in common usage (or even, before it existed) photos would be restricted to a possible flyer made up about a home, and had to fit on a single page - not unlike a resume! Listings relied much more heavily on text descriptions, and the personal knowledge of one's agent, who hopefully had seen the place personally. Homes with gorgeous photos were usually just for very high end homes, due to the costs associated with that level of photography and publishing appropriate print material.

With the advent of the internet and the ability for buyers to peruse real estate from home, on the electronic device of their own choosing, came the opportunity to show a LOT more of each home, in greater detail - and as they say, a picture is worth a thousand words. Accompanying this data availability to the average person, came advancements in digital photography and digital publishing. Photography, while still requiring a great deal of skill to get right, was simply less expensive to produce thanks to digital editing and the lack of need for film and photo printing. It became much more available to sellers of more modest properties, who did not want to invest large sums in marketing the listing to potential buyers.
Flash forward to present day, and we see the aforementioned features in so many listings - 360° views, video walk-throughs, and so on. You can really get a VERY realistic sense of a property (and whether or not it would be right) just from the photographic material. At Dupuis Team, we are especially lucky to work with a talented team of people who capture our listings to their very best effect.
But excellent photography only goes as far as the property it has to work with. The second part of this equation is that the property needs to appear to its own best advantage, with a buyer's mindset in the forefront. This very often means we need to alter the setup of the property for the photos, and perhaps for the duration of the showings and possible open house events. (We all look forward to those resuming after COVID eases!)
When someone has lived in a home for a long time, it becomes very individualized and personal - which is awesome, that's the whole point of having a home, and being a homeowner! But it does make it hard for someone else to mentally toss around the idea of that spaces as their own during the selling process. It is absolutely necessary to de-personalize the space, and make it seem as flexible and open as possible.
Towards that end, we like to employ the services of staging professionals. Most will give a short consultation in advance of full staging services, which can allow you to decide yay or nay in terms of having the entire home setup, or not. It's possible you keep a very decluttered home with classic furniture pieces that will photograph well - your stager will happily tell you so, if that's the case. If not, she can suggest specific strategies that will bring up the appearance of the property for the photography and showing stages of your sale.
You may agree that changes could be made, but still find yourself wondering if it is worth it. After all, Kitsap has a VERY strong seller's market at the present time. Buyers are having a heck of a time getting a home under contract. Why are they going to be fussy about the staging for something they are so anxious to buy? Good question.
For one thing, your potential buyers are absolutely going to see the home first via online photos. They are going to be emailing the links to several friends and relatives, and your agent is going to be marketing the listing widely on social media. In other words, it's going to be far more public than you are used to for your private space. This first impression matters, and many people besides your buyer are going to be weighing in on what they think of the space. Good feedback matters a lot here.
Realtor magazine said in 2017 that 77% of buyer's agents say that it helps a buyer visualize themselves in the space - and it rose to 83% in 2019! That tells you that buyer expectation of visual representation is also rising. This visualization is often what helps buyers decide to put in an offer. Getting a potential buyer to pull that trigger is no small thing, even in a market like ours. We have to acknowledge that it's a huge, important purchase for anyone.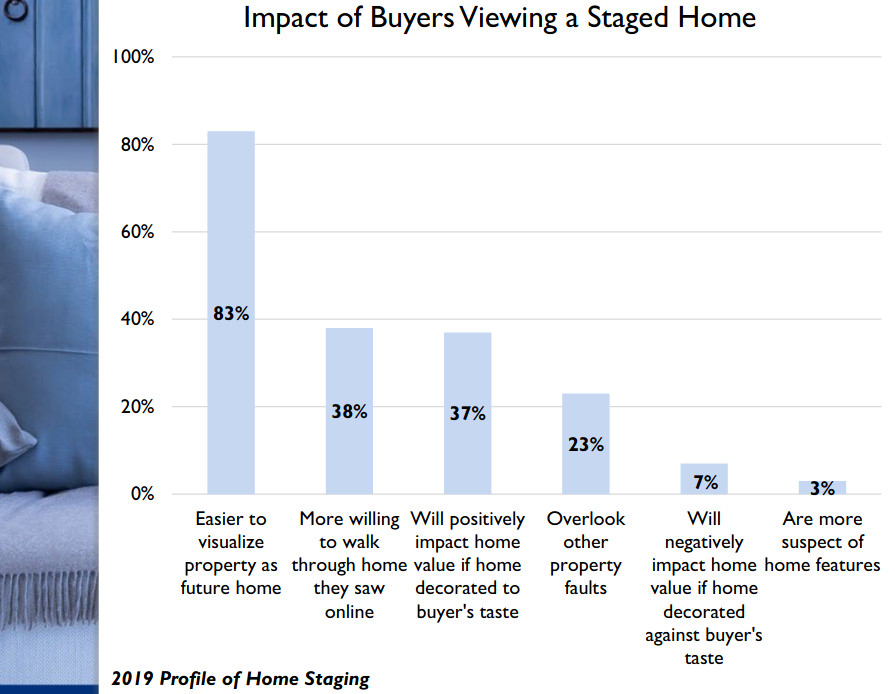 NAR Report "Profile of Home Staging"
Staging doesn't need to be an all-or-nothing approach. You can focus on a few key areas that will be important to buyers - say, the kitchen, the master suite, and the living room - and leave smaller spaces merely clean and tidy. This might be the best use of your time and resources. Talk it over with the staging consultant and your agent, and listen hard to their advice. It's ultimately your decision and your property listing, but they are the ones who have been through the process repeatedly, and they know what photographs well, and what achieves the best listing (and sale!) prices for owners.
And in the end, that's what we are talking about: showing your home to best advantage, and getting you full value for your property. Allowing clutter, unphotogenic furnishings, or overly personal effects to hide and detract from your property's potential is just silly. You may love these things in your space - and you should - but it's not what makes for a professional, modern real estate listing. Realize also that the polish of your listing reflects on your listing agent as well; she or he takes pride in presenting properties as beautifully as possible, in this era where visual representation is so important for online exposure - not only due to modern convenience, but doubly so in this present pandemic when we are trying very hard to do as much remotely as possible.
For further reading, we really like this article for the first pass, DIY staging. While very good, we believe this is what you should do before the professional stager even comes through the door, if you are able to. (And it's okay if you aren't - that's the whole point to having help!) A really detailed look at the importance of staging can be found in this 2017 report and this 2019 report, both from the National Association of Realtors.
We work with professional staging and photography teams, and can assist you in scheduling these consultations, and getting the right team for your property. We know our clients are busy people who often find tackling this aspect of the listing perplexing or taxing, which is the entire point to getting help from an agent for the sale. Leave the details to us! Give us a ring at Dupuis Team if we can assist you with your next real estate endeavor - we look forward to hearing from you!