How Healthy Is the Kitsap Real Estate Market?
Posted by Dupuis Team on Thursday, July 2, 2020 at 2:10 PM
By Dupuis Team / July 2, 2020
Comment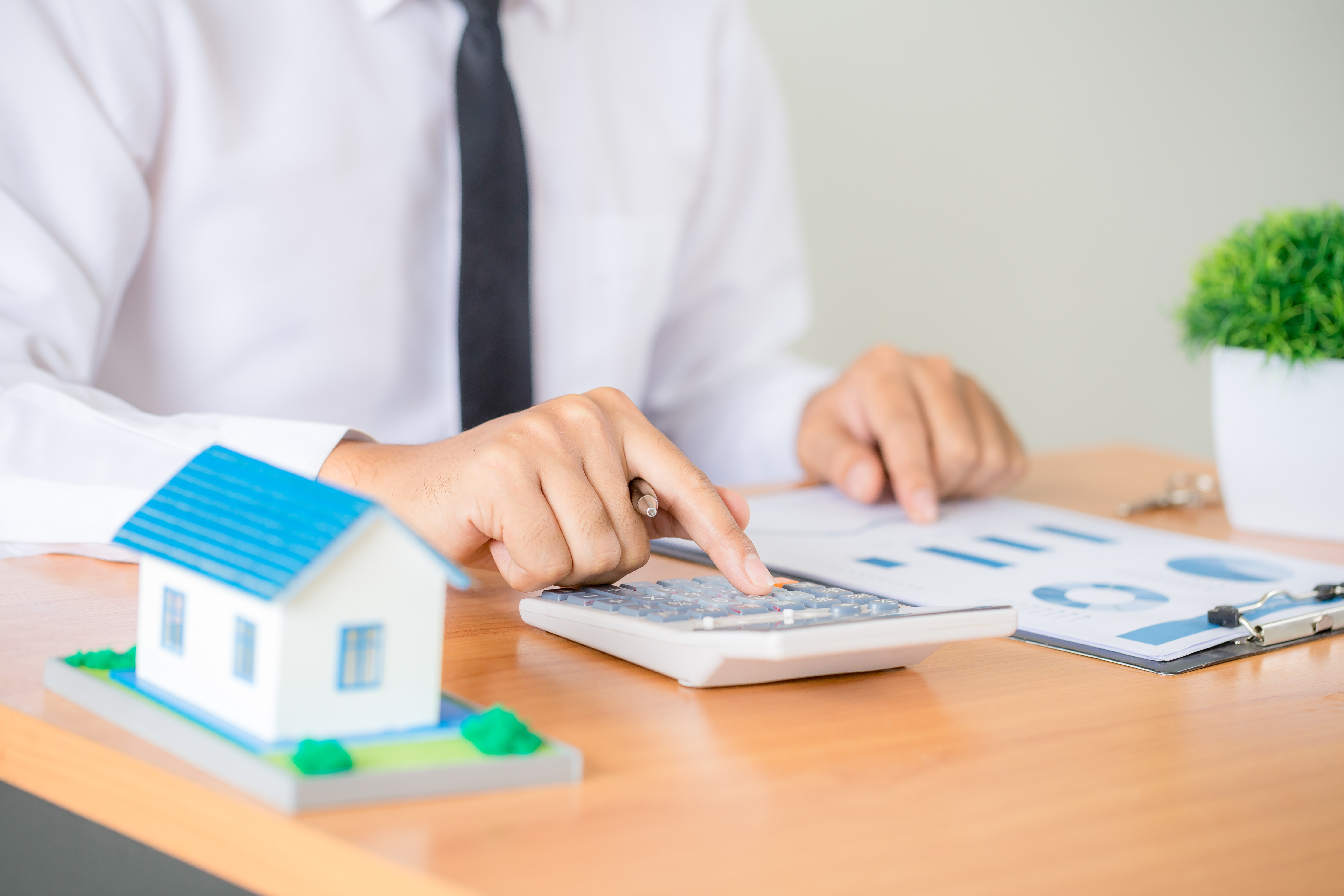 As we came into spring and the shutdown necessitated by the spread of COVID-19, the real estate industry braced for the worst - along with most sectors. This was true for Kitsap, too - we were very concerned about low inventory (meaning people weren't listing their homes for sale) and we had some serious concerns about the pressures on the mortgage industry - which of course, underlies the real estate market for nearly everyone.
It's been a lot of breath holding for us all - and we continue to be cautious - but we have been pleasantly surprised. Sales of homes have been brisk; days homes are listed is very short, and lenders are catching up with some of their backlog. One challenge remains our very low inventory - but it's arguably as much to do with brisk sales, as lack of new listings, because those figures are strong week to week.
We did a little calculating behind the scenes with some pencil scratching by firing up the spreadsheet, which does all the hard work honestly, We thought it might be interesting to compare median home prices for this year, to the same sales week last year. We picked sales from May and June as our basis for comparison, and included figures on into the fall from last year, just as a possible indicator of where the market goes seasonally.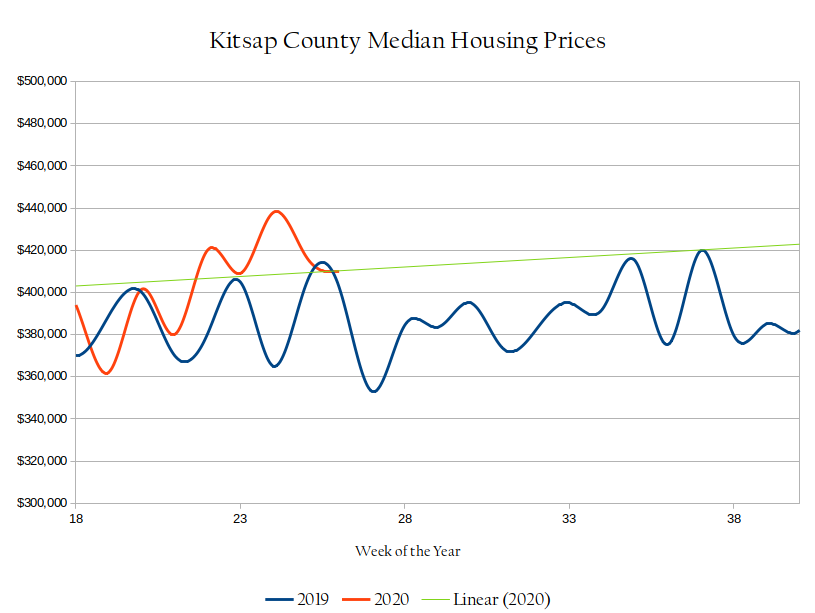 As you can see, if we consider median sales prices as an indicator of market health - Kitsap has remained robust over last year. The green line is something called a "trendline" (linear refers to the arithmetic used) and shows a rough average of all figures represented, and can extrapolate where figures might continue. While it doesn't really have a real-world analogue, it does visually smooth out the expected up and down values you see when we zoom in this close.
So what do we see when we zoom out a bit more? Let's look: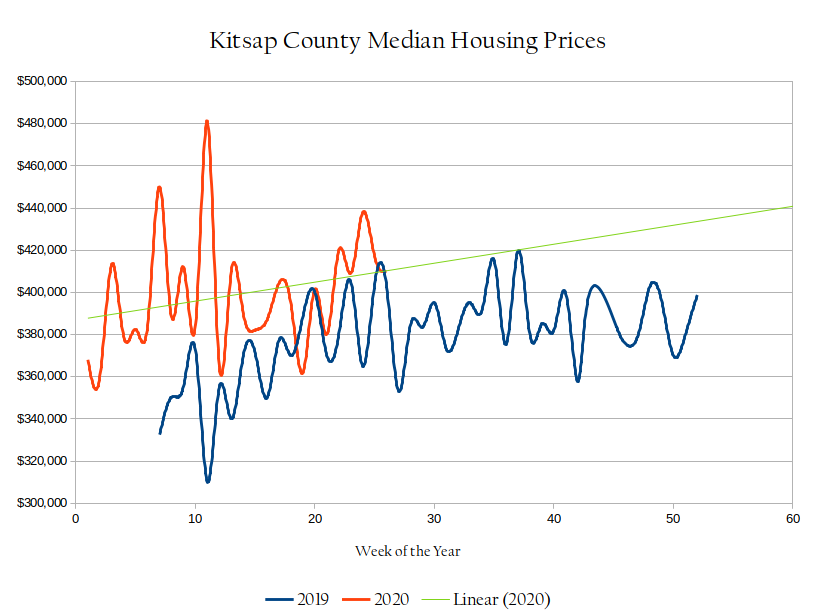 So, we can see that we actually started out the year with higher figures, relative to last year (although we only have records that start the 7th week, sorry about that.) This year's median prices are tightening a bit to last year's. It's a bit different picture than what we see up close, right? It's also important to remember this is merely one metric for the market - inventory, number of sales, time on market . . . those things matter too, and aren't reflected in this singular comparison. (But we DO track them! Check here and subscribe to our YouTube channel for weekly insights!)
We continue to encourage those who are thinking of selling, to list soon. This is the robust time of year, and we have extremely motivated, well qualified buyers who are actually frustrated that they can't find homes, or are losing out due to competition. If you are worried about the logistics of needing to buy a home AND sell within a short time - in that same tight market - please give us a call, we deal with this situation every single day, and can walk you through it! In fact, one of our brokers did a video that talks about some ways people manage that issue just this week!
That's our take for now, partway through the always busy spring/summer sales season: prices are holding steady (and certainly steadier than was feared), the mortgage industry is catching up with their backlog, and buyers are still very interested. We attribute the health of our local market to the number of essential workers we have here in industries like the shipyard and other US Navy related employment, as well as tech workers who commute to Seattle, and were in good positions to continue working remotely from home, after the Stay at Home order went into effect in March. (This April article from the Kitsap Sun largely agrees with us!)
If you want to mull this over some more and hear more of our thoughts on the health of the Kitsap market, please give us a ring! We'd love to offer whatever advice we can on your unique real estate situation.