Catching up with Dupuis Team's Video Feed
Posted by Admin Dupuis on Wednesday, January 22, 2020 at 4:45 PM
By Admin Dupuis / January 22, 2020
Comment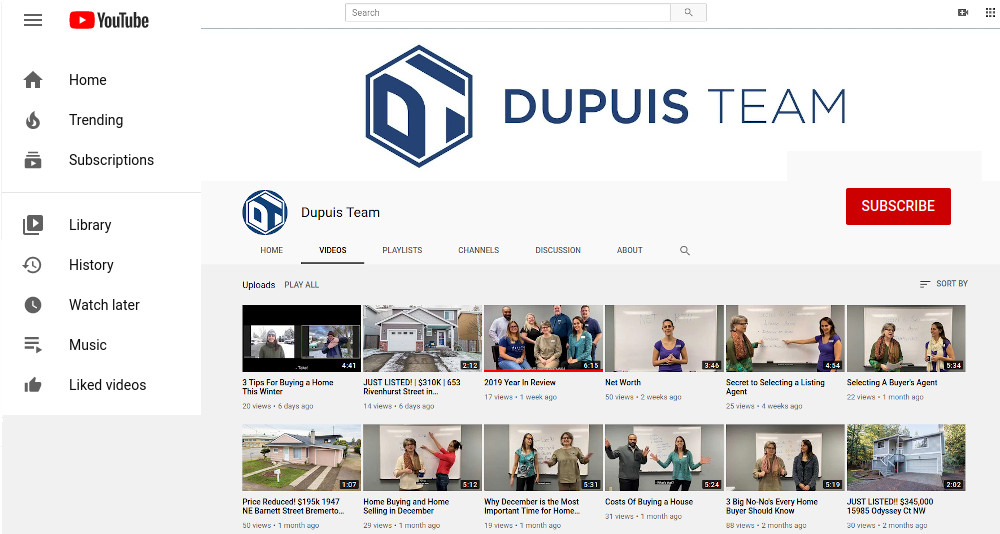 So by now, you've found the Dupuis Team website, made yourself a login and enjoyed searching among the listings we offer here in Kitsap. You've found this blog, and perhaps you've looked through some older articles . . . you've had a look at the team page . . . maybe you've found your way to our Facebook, Instagram, or Twitter feeds.
If you've done all that, you've been busy indeed! However, we want to make sure you don't overlook one of the best ways to get a feel for Dupuis Team, and learn a lot about the Real Estate scene in the Kitsap Area: our YouTube video channel.

We put a lot of energy into our weekly videos, and hope that our customers view it as a real resource in their real estate journeys. Topics include discussion about the basics of real estate transactions, deep dives into the facts and figures behind a given week's real estate scene, and more. We post video tours for featured properties too, so following the You Tube channel can be a great way to see what's new and available.

One of the most important reasons we bring videos to you, is for the familiarity the medium lends. We want you to get to know US, so you'll feel comfortable with your choice in real estate agent. As a sample, we'll share our very recent 2019 Year in Review. We hope you'll stick around, subscribe to the channel, and enjoy the content we offer.