Buying in a Seller's Market: Understanding the Over-Asking Price Offer
Posted by Dupuis Team on Thursday, December 10, 2020 at 3:00 PM
By Dupuis Team / December 10, 2020
Comment
One of the most misunderstood aspects of navigating a low-inventory, seller's market like the one we've been experiencing in Kitsap recently, is the idea of offering over the seller's asking price when putting together a competitive bid on a home.
We offer Kitsap Weekly Market Stats here, and in far more detail on our YouTube Channel. We dive into the ups and downs of the market, both zoomed up close and pulled back over time. One feature that has been prominent in our local market, is the Final Sale Price compared to the Listing Price: for a couple years running, this figure has been over 100%, which means that - on average - homes are selling for more than the listing price.
If you follow our .pdf handouts on the webpage, you'll see we even highlight the figure, and then further breakdown how many of the sales that week were above, at, and below asking price: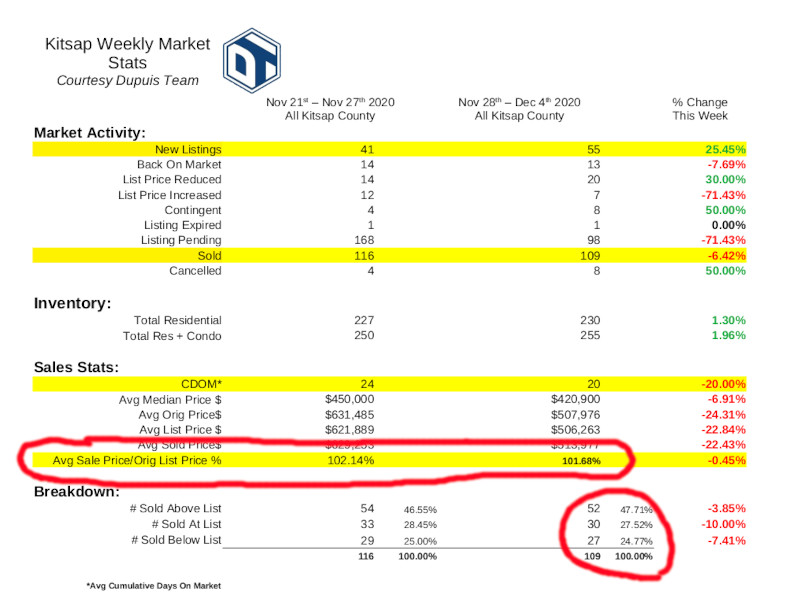 We put a lot of effort into bringing our clients these numbers, because we know that's the best way to help them make successful bids in this market condition. We get it - it's really counterintuitive, especially if you are a First Time Buyer, or haven't bought a house in a long time. It's a shift in thinking about how to get a home under contract! Why make the effort? Managing one's expectations at this very early stage of house hunting, will save you the vexing experience of losing bid after bid.
The numbers you see above shift from week to week, but don't really explain the whole market, because it's not broken down by market segment. What will really matter to you, individually, is what that Sales Price to List Price percentage tracks in the actual market tier in which you are personally shopping, because trends vary significantly there according to demand. Largely, in the middle market segment - midpriced family homes in traditional sizes, in desirable family neighborhoods - are the properties with the most competition. You can be fairly certain these homes will go for OVER asking, and you should bid accordingly.
The properties the go for below asking are usually in a niche market - high end, custom homes that only have a few buyers in the first place . . . or very dilapidated properties that require a great deal of rehab before they are habitable. We often see these properties receive cash offers, due to the unique financial position of the buyers. Simply put (and understanding that this is a generalization) these buyers don't need to include a mortgage process as part of their purchase, which is expediential. We are still seeing a lot of developers and flippers buying lower end properties, especially in the Bremerton area - these folks almost always are working with cash. To be frank, it can be hard to bid against that as a conventional buyer. You may find that the only way is with an offer that is SIGNIFICANTLY over asking. We have clients who have lost out to cash buyers, even when offering 10 or 20 thousand over, in this lower end, rehab market.
Which leaves us with the usual conventional client - and that's most of the rest of us. We need a mortgage in order to buy, and we have a pretty strict price ceiling in a segment that is the most popular. We have the down payment we have, and not much else on the table. What's a buyer to do? In fact, Dupuis Team found Steph Dupuis addresses this conundrum on our weekly featured video:
(We covered some great additional tips in this video as well.)
In short, if you among the vast majority of us who are conventional buyers . . . you really need to consider that a winning bid will require a few percent over, at least. You might consider going even higher if you think you've found your dream house, because chances are someone else thinks the place is a peach, too.
While that seems fairly evident on the face of it, what we're really asking you to do is consider your shopping budget. If you need to come up with extra, you'll have to shop a bit cheaper in order to afford that extra bit on top. It might mean saving up a little longer to sweeten the down payment, too.
When you're ready to make your next #Kitsap move, give us a ring at Dupuis Team! We're always ready to chat over your personal situation, and give you our honest, up to the minute appraisal of what we think your best move will be. We advise, you buy or sell. That's the way we've always done business, and we'd be honored to include you as a client!