Buyers One Year Later: David and Mandi
Posted by Admin Dupuis on Tuesday, December 10, 2019 at 6:40 PM
By Admin Dupuis / December 10, 2019
Comment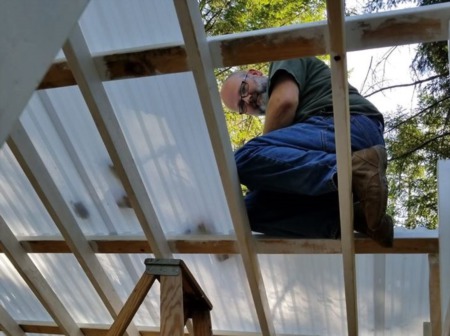 Buying or selling a home is one of the biggest financial decisions most of us make in our lifetimes. It has the potential to impact every facet of our lives. Given this reality, moving forward with your transaction can be a nerve wracking decision. We are going to highlight a few Dupuis Team clients in this and upcoming blog posts, and find out how they are doing a year or more out from their big moves.
David (pictured here, building a shed) and Mandi met in middle age, when both were empty nesters. They had both been renting while dating, and decided after a time to consolidate their households and buy a home. A personal referral led them to Dupuis Team in early 2018. Mandi shares:
"I'd bought a house once, in an earlier phase of my life, but David was very new to the process and expressing that he was overwhelmed by how much there was to know and understand, and how expensive it seemed. Nonetheless, this was a completely different market for me, and I knew we needed a lot of hand holding."
So it was with some trepidation that they made the call to Dupuis Team, and set up an appointment. David remembers:
"At the initial meeting with Stephanie Dupuis, she listened to our circumstances and the particulars we needed, plus helped us focus on the sorts of properties we should (and should not) consider. We were given a very thorough and easy to understand guide of the process and typical timelines, plus costs that we might not have thought about beforehand. As someone completely new to buying a home, I really appreciated this level of education. I felt a little bit apprehensive because I knew our budget was very small and that our choices were going to be slim, but Stephanie absolutely reassured us about taking us on as a customer. We were never made to feel like we weren't worth her time,"
After many frustrating bid losses in a very competitive market with a thin budget, David and Mandi bid on a HUD home, which can be daunting for any home buyer, but especially first timers. Says Mandi:
"There are extra steps to be observed, and some of the steps can seem . . . fussy. For us, it was worth it because it allowed us to get significantly more property and more privacy for our limitied budget. We could finally put in a competitive bid. It reassured us enormously that our realtor, Steph Dupuis, shared her own experiences purchasing and renovating a HUD Home. We knew the property had been abused and neglected, but we were up for the DIY challenge. It was a very happy day when we got the news that our bid was accepted, after about 6 months of losing out on some homes we really liked."
Mandi and David got their keys in December 2018, rolled up their sleeves, and went to work fixing mold problems, a leaky roof, broken septic, water supply issues, and more. Two months later, they moved into a partially renovated - but quite safe, healthy, and habitable - home. Their spare time continues to be spent bringing the place back to life. For their time and effort, they have a newer, cozy two bedroom home on an acre of property in beautiful, wooded Allyn - still close enough to be considered "Kitsap" from their perspective, as they both work, shop, and see friends in wider Kitsap.

So, looking back - are they glad they made the leap from renting to home ownership, especially given what a large project they had to tackle just to move in?
"Without hestiation, YES!" says David. "Although we are still spending about as much each month as we did when renting, we have so much more privacy, quiet, and space - plus the money we spend on upgrading the place actually makes where we live a more valuable asset, financially. That will never, ever while happen renting. My rent was being raised dramatically with each annual lease renewal, so I know that this is probably a false comparison a year out - I'd like be paying MORE in rent now! Being able to hold my payment constant from year to year is a huge stressor removed."
Any parting thoughts from the couple? Are they satisfied with their fixer-upper?
"It's actually been a dream of mine to get to renovate a home like this, ever since I started watching This Old House as a teenager, " shares Mandi. "Our place is small and simple, and it's actually been a lot harder to mess up than we feared. We've tackled electrical, plumbing, flooring, cabinets, newworking and smarthome upgrades . . . you name it. We feel a real sense of ownership, and are proud of what we've managed between us. We are always dreaming up more ways to improve the property. David and I both encourage other people to take the leap, even if it's later in life like us. It's so rewarding, and worth the worry and cost up front. Thank you, Stephanie and the whole Dupuis Team!"
Do you have a Dupuis Team follow up story to share? Interested in being featured? Drop us an email, call us, or reach out on our social media.